IN KIM'S WORDS
Like many people in the Wellness industry, I have suffered from a series of health concerns, mostly related to digestion and my menstrual cycle. I began educating myself as I felt a need to get to the root cause of my ailments. Thus began my journey on a path of self-discovery. When doing my yoga teacher training in 2009-2010, I was introduced to Ayurveda; a philosophy and medical practice that originated in India thousands of years ago. This is when I began understanding my issues from a truly holistic perspective. My curiosity and passion for this science further lead me to study Ayurveda and become a practitioner. This knowledge and inspiration have been the driving force behind the creation of WILD GRACE.
After years of testing so many existing beauty products without ever being fully satisfied with the results, I decided to create my own line that would answer my needs and expectations (keeping in mind my own skin sensitivities). I believed that through my knowledge of Ayurveda, my certification in skincare formulation (Formula Botanica), and my highly creative nature, I could truly offer something that would be unique on the market.
Today, I offer my creations with great pride in knowing how they empower you through daily beauty rituals to feel and look your very best. Glowing radiance, and self-empowerment come from daily self-care practices!

WILD GRACE was born from this mission of guiding each person to honour their temple through daily rituals to ignite & reveal their true radiance.
With Love,
- Kim XX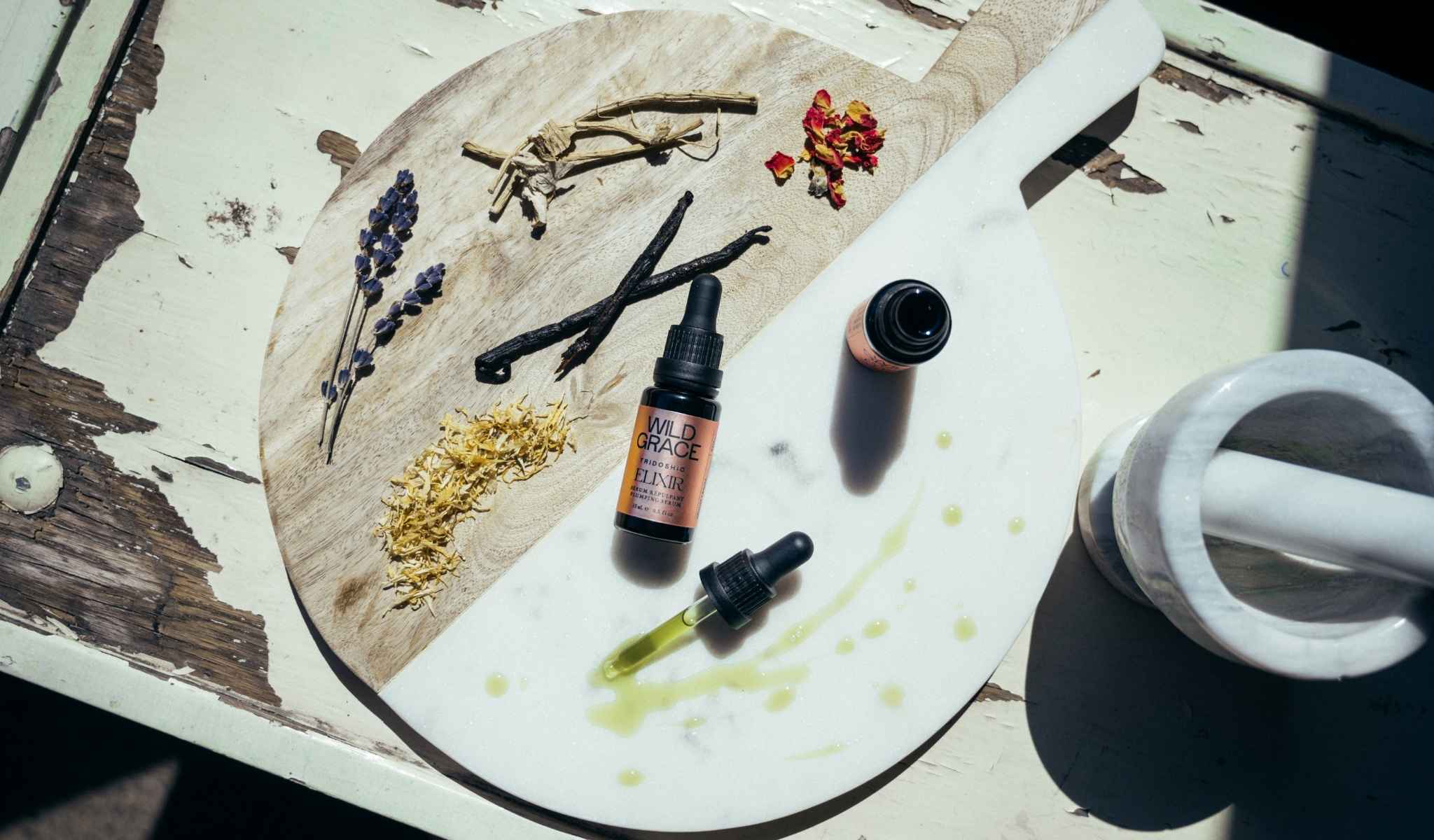 Plant-powered skincare
Our mission is to offer the best skincare ever based on the fusion of powerful botanicals enhanced with bio-active ingredients. The result? Radiant, glowing and healthy looking skin.
OUR GUARANTEE
Our products are handcrafted in small batches with the purest & finest botanical ingredients available. ORGANIC & WILD whenever possible.
PLANT-BASED
CRUELTY-FREE
VEGAN
OUR MISSION
To empower women to reconnect and celebrate themselves daily through self-care rituals, mindfulness, and healthy lifestyle choices that realign them to their authentic & joyful nature.
DAILY RITUALS
It is in our brief but sacred moments of self-care that we are able to rebalance, renew & restore.
OUR VALUES
1.
All of our ingredients are plant, herb, or root based.  Real whole plant ingredients = Real nourishment for the skin.

2.
Every single ingredient must be selected for its nourishing and restorative properties. That means attention, intention, and self-love. Daily.

3.
Every single product must fuse pleasure with performance, yet adapt to your needs. This means you will feel supported, beautiful and nourished. Always.